In the Sunshine of his Love ...
Tomorrow will be May Day and we finally put our new kayaks in the water this weekend! His is yellow and red-orange and slightly larger than mine.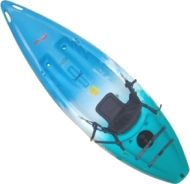 What gorgeous weather we've had the last week. The temperature has been hanging right around 90 and we were on the water yesterday and today. We have some aloe vera rubbed into our pink spots, too! We had a goober with us (the other one spent the weekend at grandma's helping to clean out their attic) and we took turns going out on the two kayaks. He wants one of his own now.
I have to say that this is turning out to be the absolute coolest gift that I have ever been given.
Yibbyl
is AWESOME and I am very lucky to live in the sunshine of his love.
I had some pictures from yesterday but I deleted the whole batch last night. I wanted a fresh flash card for the PROM! And yes, I took
Yibbyl
with me! He was my date at the school prom last night and we had fun. I won't tell ya what we did after the dance but we did stop by the drugstore and pick something up as we giggled our way (fancy clothes and all) through the checkout!
Well, that's all for this quick update.
I hope that y'all are having a lovely spring!
I love ya's.
Today's Plan: Apply aloe very liberally to the guys then me next!